The Museum of the Synapse: Travelling Exhibitions
The Synapse Museum was established in 1999 to organize travelling exhibitions of Synaptic Folios, as well as artifacts, and historical simulacra from the permanent collection of The Archive. The Museum also sponsors educational events, demonstrations, and lectures on all aspects of the Synapse. Our eventual goal is to locate a permanent home for the rapidly growing collection, a place to function both as a site for public exhibitions and as an open research facility for more indepth explorations of the Synapse and the Keepers.
RECENT EXHIBITIONS:

"Waves of Light: Three New Acquisitions in the Archive of the Synapse"
An interactive display of three new simulacra of rare Synaptic artifacts.
Pocketbook Factory, Hudson, NY . September 29 - October 10, 2004.
"Between Existing Things:  Artifacts from the Archive of the Synapse"
A comprehensive overview of the Archive Collection, including never-before exhibited acquisisitons, as well as rare recorded interviews with Keepers, and other first-hand accounts of Synaptic Experience. All 20 currently restored folios will be accessible to the public in the View Room's flatfiles.
Southern Exposure. San Francisco. August 28 - October 12, 2003.


 The Codex of the Synapse: Ten Folios 


Restored Folios presented as part of a Faculty exhibition at Maine College of Art.


Institute of Contemporary Art. Portland, ME. December 2002.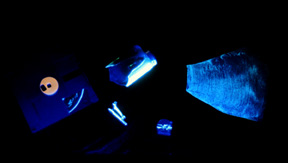 "1:1"
Several artifacts from the museum, including a replica of the Pattern Language Receiver (cf. Folio B3.2) were included as part of an exhibition exploring the unexpected relationships between disparate objects in contemporary culture.
Refusalon Gallery. San Francisco, CA. July, 2000.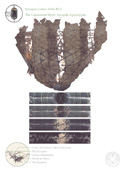 A Year Between the Worlds: Recent Acquisitions and Reconstructions
The Museum takes up temporary residency at the Herbst Pavilion at Fort Mason Center in San Francisco. It will present a comprehensive retrospective of restored Folios and Historical Objects, covering the past year of work at the Archive of the Synapse. The exhibition will include all of the currently completed folios from The Codex, as well as fascinating displays from the Museum Collection, including Ambient Pattern Receivers, Synaptic Loci in Common Household Objects, and a Magnified Strand of the Local-World Lattice. Admission is free to all members.
Herbst Pavilion, Fort Mason. San Francisco CA. May, 2000.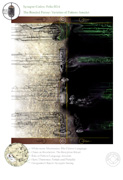 Ten Restored Folios from the Synapse Archive
As part of a multi-disciplinary exhibition entitled "art/I/fact" , The Archive presented recently restored images from the lost Codex of the Synapse, originally created by The Keepers to document Synaptic Loci, Pattern Language Amulets, and other aspects of their mythology. Related objects from the Museum Collection were also be on display.
Diego Rivera Gallery, San Francisco Art Institute. April, 2000.